John Finney at WSBW: Differentiating 'In the Collective' Key to Countering Starlink
Smart Antennas for the Digital Future
20 September, 2023
The World Satellite Business Week (WSBW) 2023 yielded a significant discourse on the need for unity within the satellite industry. This uniting force was identified as the looming competition presented by SpaceX's Starlink, which has made significant strides with its in-house satellite production and launch.
John Finney, ALL.SPACE's CEO and Founder, rallied the industry in a call for action at the "Smart Antennas for the Digital Future panel" on the inaugural day. His stark warning, "Starlink is an existential threat to this industry. Armed with rapid growth and a deep pocketed vertical integration strategy, Starlink has the capability and the intent to engulf the entire satellite landscape. We must respond with collective innovation" resonated with the audience.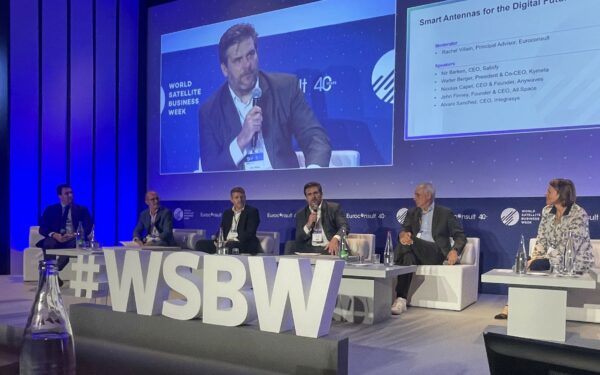 The panel, presided over by Rachel Villain, Principal Advisor, Euroconsult, reflected on the industry's need to adopt more responsive and intelligent antennas for the ground segment.
John went on to expand on the rest of the industry's best weapons — collaboration and differentiation. This response involves distinctions across satellite systems and complementary orbits (LEO, MEO, GEO and HEO), baseband modems, and multi-link terminals to create a robust defensive strategy against a fully integrated competitor like Starlink.
The satellite industry's landscape is changing fast. Operators are currently expanding their networks and partnerships across multiple orbits to negate the existential threat posed by Starlink. Nevertheless, several hurdles remain intact, including the issue of capacity excess. Finney drew parallels between the dot-com bubble burst in 2001 and the current influx of capacity by the non-vertically integrated players operating across various orbits.
The industry needs to effectively harness a hidden demand for new applications to collectively achieve optimum system capacity. "We must innovate. We must differentiate," he urged. The emphasis lies in industry-wide proactivity and innovative collective thinking, combining the available technologies to resist Starlink with plans for a 32,000 satellite-strong system.
Moving towards the future, ALL.SPACE will introduce the industry's premier bi-directional transmit and receive SMART terminal across multiple orbits. This marks a crucial step in shifting the market from communication on the move towards data on the move. Finney elaborated that this shift involves than just providing bi-directional paths; it also encompasses the role of sensor integration.
Considering the ongoing conflict in Ukraine and its repercussions across the globe, it becomes clear that intelligent terminal designs to counter electronic warfare and jamming are now an absolute necessity.
John concluded by stating, "The traditional model of a simple antenna serving a basic link, reliant on a single satellite connection, is grossly inadequate. To guarantee global safety, both the US and NATO require more. They urge us to work jointly and innovate, amalgamating our advanced technology and strategic partnerships to address the evolving challenges."
In a final parting note to the audience, he affirmed the industry's need to listen closely to this timely call to action and to offer an innovative response.
More From ALL.SPACE
ALL.SPACE CEO John Finney and newly named Chairman of the Board Chris Emerson spoke exclusively to SpaceWatch.GLOBAL during World Satellite Business Week 2023. Access their interviews below: