Next-Gen Satcom Terminals: Meeting the Complex and Differing Needs of Government Users
May 2, 2019—Isotropic Systems is working with global mobile satellite operator Inmarsat on a revolutionary next-generation satcom terminal prototype that will usher in a new era of mobile satellite connectivity.
Inmarsat's Director, Government Land James Marley says the London-headquartered satcom provider sees Isotropic System's terminals as leading innovation among upcoming antenna and terminal technologies and believes the product, expected to enter the market in early 2021, could make satcom services accessible to a much wider range of customers.
"We hope that the new generation of terminals combined with our continued investment into expanding our Global Xpress network will allow us to deliver hundreds of megabits onto platforms, even gigabits when we combine multiple satellites."
— James Marley, Inmarsat Director, Government Land
Government and defence users are set to benefit in several ways from the new scalable technology, which will significantly reduce cost, support mobility applications, increase available bandwidth and enable seamless switching not only between multiple satellites, but also between multiple satellite systems, such as GEO, LEO and MEO constellations.
"Comms on the move is a big growth area for government and military type users be that land, maritime or aviation," says Marley. "We already work with the leading-edge solutions today, but current technology is constrained in terms of data rate and skew and elevation angle limitations. Power consumption and high cost of current technology are hurdles to meeting customer requirements."
Current cutting-edge technology is available only to a limited range of users, most frequently in special defence forces. Inmarsat and other operators indicate that a much wider range of users would leap at the chance to use high speed mobile satcom services if terminal prices were more affordable.
"The existing technology is going to the best-funded departments that have an absolute need for it," says Marley. "But we can see the requirement growing in emergency services, border patrol agencies as well as increasing number of military applications. We hope Isotropic Systems' terminals could help us meet a wider government market need and open up new types of services."
Isotropic Systems' terminals will be available at about a third of the cost of an equivalent-performing terminal. The massive cost reduction is possible thanks to revolutionary optical beam-forming technology, which enabled Isotropic Systems to decouple the performance requirements from the cost. The technology requires much less circuitry to create the beams that connect the terminal to the satellite. Only one feed needs to be powered up under each of the lenses at any one time to form a single beam. As a result, the entire antenna requires only a few hundred feeds compared to a phased array, which needs thousands of feeds all on at the same time.
The reduction in the amount of circuitry and design complexity also leads to a considerable reduction in power consumption compared to the competing approaches – a major draw for most military users, who traditionally care about size, weight and power.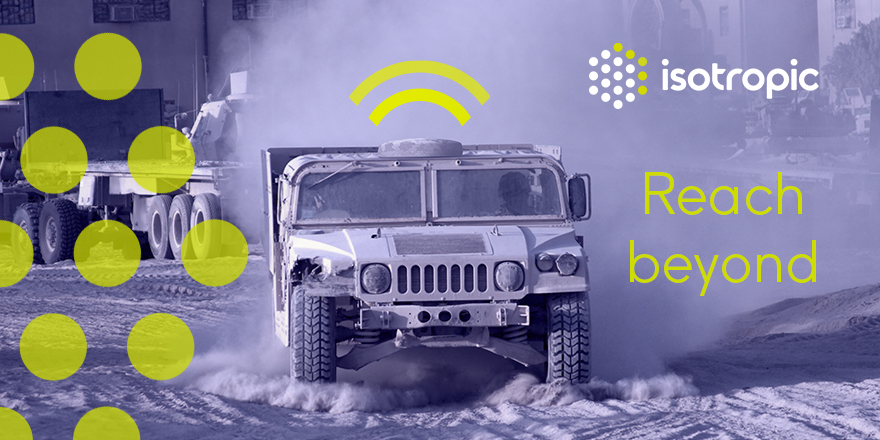 Isotropic Systems' solution will cater to the complex requirements of government and defence users while at the same time offering flexibility by facilitating parallel operations on any of the existing and upcoming satellite constellations.
With multiple beams available at the same time, users will be able to conveniently switch between various satellites of a single constellation, such as Inmarsat's geostationary Global Xpress, but also simultaneously connect to platforms in medium and low Earth orbits, such as SES' O3b mPOWER or other NGSOs. This capability will provide extra resiliency in stressful situations – another advantage for military users.
"Being able to connect to multiple satellites will enable us to bring more data down and increase the amount of capability we can offer," says Marley. "We hope that the new generation of terminals combined with our continued investment into expanding our Global Xpress network will allow us to deliver hundreds of megabits onto platforms, even gigabits when we combine multiple satellites."
Mobile platforms – vehicles, ships and aircraft – will benefit from seamless satellite switching as they move between satellites. The increased bandwidth will allow mobile platforms to use services that have previously been unavailable to them, such as receiving situational awareness information in the form of video while on the move. The conformal terminals could also cater to the needs of the increasingly data-hungry UAV applications.
Isotropic Systems and Inmarsat plan to test a technology demonstrator within the next couple of months and to trial a product prototype in a real use case environment next year.
The close relationship with Inmarsat allows Isotropic Systems to respond directly to real industry requirements. We are not guessing what the market wants. We have Inmarsat requirements, we understand the specifications and respond to them, which puts us in a good position to make sure that what we deliver is exactly what the industry needs.