ALL.SPACE Appoints Indira Hann as General Counsel
Legal support paramount as company enters milestone year for design, development and roll-out of its' transformational multi-beam terminal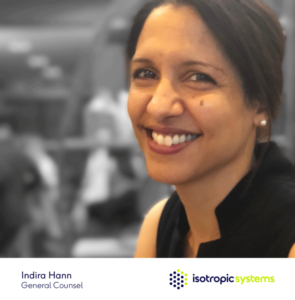 Reading, UK – 18  January, 2021 – Isotropic Systems, a leading developer of transformational broadband terminal technologies, today announced it has appointed Indira Hann as General Counsel to lead and manage all legal activities regarding the development and roll-out of its unique technology as the company fast approaches commercialization of its multi-beam antenna for the  government, aero, maritime and telco market.
Indira Hann's role as General Counsel is critical to Isotropic Systems as corporate and legal support is key to the rapid development of the world's first multi-service, high-bandwidth, low power, fully integrated high throughput terminals; on track for roll-out by 2022.
"I am really excited to join Isotropic Systems at this stage of its growth. The team is incredibly talented and committed and I'm very much looking forward to working in such an innovative environment," said Indira Hann, General Counsel at Isotropic Systems.
Hann joins Isotropic Systems with over 20 years of in-house and lawyer experience and an M.A. (Cantab) degree in Law from the University of Cambridge. With private practice experience with Magic Circle law firms Allen & Overy and Clifford Chance, followed by in-house engagement in  retail and technology industries, Indira Hann's expertise is a valuable asset to Isotropic Systems.
"With extensive legal experience and a great understanding of the technology industry, Indira Hann is an invaluable addition to our fast-growing Isotropic Systems team and I'm very pleased to have her on board. We will double in size this year as we add a solid group of engineers and specialists to the team.Indira will play a key role in ensuring the correct legal framework is in place to enable us to thrive, grow and to launch our game-changing multi-beam antenna," said John Finney, Isotropic Systems CEO.